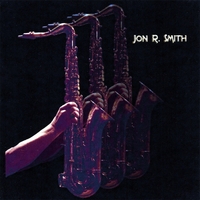 "Click CD Icon to Purchase From

CDBaby

"
This week our featured CD is from Jon Smith and is self titled Jon R. Smith. The CD was released earlier this month. We have two songs from this new release in our rotation "You Are My Sunshine", and "Do You Know What It Means to Miss New Orleans". Below is a brief bio on Jon:

It can safely be said that Jon Smith is a Gulf Coast music legend. Born in Lake Charles, Louisiana, Jon, along with childhood friends Edgar Winter and Jerry

LaCroix

, formed the now legendary Edgar Winter's White Trash band in the latter part of 1969. Though that band was only together for a too-short period of time, they left an indelible mark on popular music. Jon R. Smith's full, round tenor sax sound and his superb horn arrangements contributed greatly to the success of that group.

Also known as a member of Louisiana legends, The Fabulous Boogie Kings, Jon contributed greatly to the blue-eyed soul sound they popularized throughout the Gulf Coast.

For over 40 years, the unique and powerful sound of Jon Smith's saxophone has been sought out by some of the biggest names in the music industry, including Edgar Winter's White Trash band, Albert Collins, the Grammy Award-winning group Toto,

Boz

Scaggs

, Philip Glass, Dr. John, Randy Newman, The Rascals, Sarah Vaughan, Johnny Winter, Clarence "

Gatemouth

" Brown,

Doobie

Brothers, and European superstar Peter

Maffay

, just to name a few.

A self-taught musician whose first job came at the age of 13, Jon plays as if he was

born

with the saxophone in his mouth. Some who have heard him play compare his distinctive sound to that of Gene

Ammons

,

Pias

Johnson, and David "Fathead" Newman.