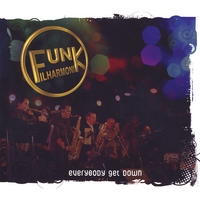 We are featuring three songs from Funk Filharmonik's new CD :
"Everybody Get Down"
the title song "Everybody Get Down", "We Get The Notion", and "Gimme Lovin".
"Everybody Get Down"
can be purchased at CD Baby (click on the CD artwork to go to CD Baby).
Funk Filharmonik band members:
Ron Fox
- trumpet

Greg Schleich
- keyboards

Jack Knight
- bass

John Scarpulla
- tenor saxophone

Brent Carter
- vocals

Ozzie Melendez
- trombone, vocals, musical director

Tom Bowes
– vocals

Steve Finkelstein
– percussion

Chris Karlic
- baritone saxophone

Dave Lavender
- guitar

Vinny Cinquemani
- trumpet, vocals

Lee Finkelstein
- drums, co-leader
About Funk Filharmonik (from their Website):

Some say the Long Island funk scene started in Huntington, on one of those magical Monday nights in 1985 at Canterbury Ales, a popular musicians hang featuring the Jim Pin Band. A five piece horn section with whom the rhythm section had recently been rehearsing squeezed into the jam packed club in front of the club's infamous ultra-compact fold down stage. When they punched out the last note of Tower of Power's "What is Hip," the crowd went wild, and what was to eventually become Funk Filharmonik was born.
It all actually started as nothing more than a rehearsal band." Ozzie Melendez, the band's trombone player, principal writer and arranger, approached the band's former tenor sax player Alex Stewart with the idea of a band that could duplicate the sounds of Earth Wind and Fire and Tower of Power.
They presented the idea to bassist Rich Ebler and drummer Lee Finkelstein of the Jim Pin Band who Alex had been playing with on Monday nights. As it turned out, Lee and Rich had visions of the same band for years. An immediate alliance was formed. "I was so excited," recounts Ozzie, "that I went home, and the very next day started transcribing six of my favorite Tower of Power tunes". According to Lee, the group just started as a rehearsal band simply for the thrill of playing this music.
When Gary Smith, owner of the Brokerage(Seaford, NY), and long time pillar of Long Island's live music scene heard the line up of the band, he booked them sight unseen, without a demo tape. Many of Funk's members had performed regularly at The Brokerage and Gary knew the caliber of musicians he was dealing with. Funk Philharmonia (as they were originally called) first gig was on November 21st 1985. Since that first gig, there have been surprisingly few changes in the band's line up, especially for a group of this size.
Funk Filharmonik's big, fat, fiery horn sound and chunky rhythmic vibe has become a magnet for musicians and music lovers of all stripes, from jazz hipsters to rockin' bikers, from students to teachers, youngsters to oldsters, fans of jazz, funk, soul, R & B, listeners, dancers … and basically anyone who is in need of a "soul vaccination." The Funk band has influenced many other local bands. Their performances have become a local hang for so many players. One never knows who is in the audience and might come up to sit in with the band, particularly when they gig in Manhattan.
The band does, after all, feature some of Long Island's hottest and most in demand players. Collectively, they've recorded and performed with icons of popular music, including Ray Charles, Billy Joel, Paul Simon, Celine Dion, Stevie Wonder, Tower of Power, Diana Ross, Janet Jackson, Aretha Franklin, Bootsy Collins, Shaggy, the Winans, Mariah Carey, The Allman Brothers, and so many more. Many of these guys have played with jazz and Latin giants including Tito Puente, Willie Colon, Freddie Hubbard, Jonathan Butler, Marc Anthony, Lionel Hampton, Jennifer Lopez, the Brecker Brothers, and a list that goes on forever. Their talents have added to countless TV and Broadway shows, and commercial jingles. At any given moment, these guys might be off as a band, a horn section, or individual players in the far corners of the world playing in such diverse settings as presidential inaugurations, midnight sun concerts in Sweden's Arctic Circle, or spiritual drum and dance ceremonies of Ghana, West Africa. The Band also prides itself in the many benefits they and their loyal following of funksters have supported for humanitarian and environmental causes.
For more about Funk Filharmonik check out their website by clicking
here,
or go to
http://www.funkfilharmonik.com/