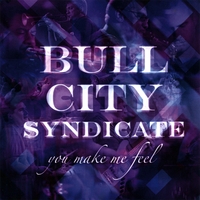 Currently we are featuring the music from the North Carolina base band
"Bull City Syndicate".
We have three songs in our current rotation from their CD
"You Make Me Feel"
, (I Wanna) Testify, Brother Man, & My Baby Loves You.
Notes From CDBaby about the band:
Ambitious. That's the best way to describe the new release by North Carolina's Bull City Syndicate. With Grammy-nominated producer John Custer at the helm of the project, You Make Me Feel is the most ambitious recording by a Raleigh/Durham-based band in a generation.
Over the course of 13 years, formerly known as Soul Kitchen & The Bull City Horns, Bull City Syndicate (BCS) has successfully scaled the local scene of dance-cover bands, ascending during those years from a top-drawing club act to one of the most in-demand private and corporate party bands in the Mid-Atlantic region. Then, someone had an idea . . . and a good one at that. Specifically, to hand over to a world-class producer the yet unrealized potential of nine individually unheralded talents, and have them recreate tunes from some of North Carolina's rich history of funk, soul and pop songwriters.
Featuring songs exclusively written by composers with a significant connection to North Carolina, either by birth or current residency, BCS entered John Custer's Jag Two Studios in October of 2006, and didn't exit until the following April. The product of those six-plus months is a genuinely compelling funk/horn-band experience, referencing and paying homage to the broad spectrum of funk, soul and R&B's most enduring musical traditions. Retro, while not blatantly so, the record often reminds us of what the current R&B hit-factories most often fail to deliver, namely, great melodies, real vocalists, and an in-your-face horn section. While it's easy to point out the influences, (both subtle and overt), of Marvin Gaye, Curtis Mayfield, Sly, James Brown, The Temptations, and the like, the originality of Custer's horn arrangements help sidestep any presupposed comparisons to the most famous of horn bands - Earth, Wind & Fire, Tower of Power, or Chicago.
You Make Me Feel features tracks composed by Maceo Parker, George Clinton, Roberta Flack, Ben. E King, Bobby Patterson, John Custer, and as an added bonus, Raleigh's own, Corey Parker, (yep - Maceo's son), makes a special appearance on "Bull City Groove," which he also co-wrote with producer John Custer.
The Players:
Clarke Egerton – Trombone/Guitar/Vocals
Vhondy Strickland – Saxophones/Flute
Charlie D'Agostino – Keyboards/Vocals
Steve Baker – Trumpet/Flugelhorn/Vocals
Matt Kanon – Guitars/Vocals
Dan Lantier – Vocals/Percussion
Rodney Ogden – Trumpet/Flugelhorn
Jeff Nelson – Bass Guitar
Todd Proctor – Drums
For more about Bull City Syndicate
"Click Here"
.
You can purchase the CD by clicking on the CD cover artwork at the top of this article.